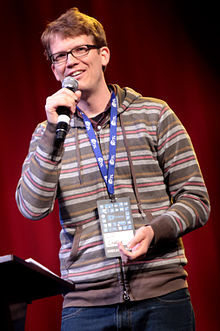 William Henry "Hank" Green II is an American entrepreneur, musician, biochemist and vlogger, well known for his YouTube channel, VlogBrothers  where he regularly uploads videos along with his brother, John Green . He is also the creator of the online environmental technology blog EcoGeek, and the developer of Subbable. He is involved with several other channels on YouTube, including Crash Course, SciShow, The Lizzie Bennet Diaries, The Brain Scoop, How to Adult, and Sexplanations. He is the author of the book: An Absolutely Remarkable Thing.
Personal life
Edit
Green was born in Birmingham, Alabama, on May 5, 1980. His family soon moved to Orlando, Florida, where he was raised. He graduated from Winter Park High School in 1998, then earned a Bachelor's degree in Biochemistry from Eckerd College and a Master's degree in Environmental Studies from the University of Montana. He currently resides in Missoula, Montana with his wife Katherine Green, their cat, Cameo, and dog, Lemon and their son, Orin Green. Green is an atheist.
DFTBA Records
Edit
DFTBA Records (an initialism for "Don't Forget to Be Awesome") is a record label that was co-founded by Green and Alan Lastufka in 2008. Its main focus is music generated by prominent YouTube stars, such as Green himself, Dave Days, Just Between Us, Charlie McDonnell, Chameleon Circuit, Molly Lewis, Rhett and Link, VenetianPrincess, NicePeter, Jason Munday and several others. Distribution of records by DFTBA Records is largely independent; Lastufka himself generally oversees most of the distribution.
The goal of the record label, as Lastufka stated in a video on the subject, is to provide a distribution network for talented artists of YouTube and to make sure their music reaches out to the "largest audience possible." The record label claims to aid a bigger audience in connecting with the artists, and make the "YouTube experience" more lucrative, more exciting, and more fun. The offices of DFTBA Records were in Manhattan, Illinois, until early 2013 when they were moved to Hank's hometown of Missoula, Montana.
Community content is available under
CC-BY-SA
unless otherwise noted.